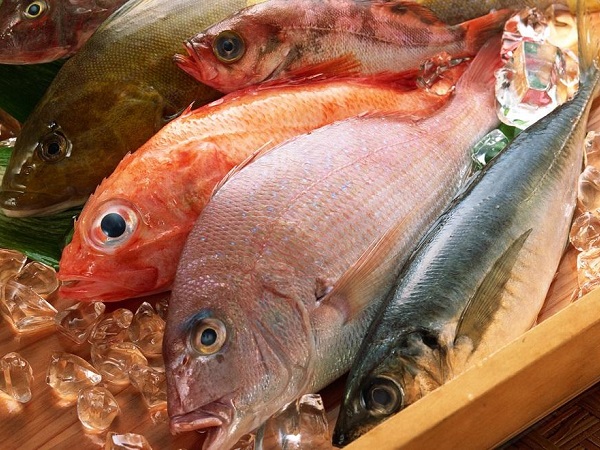 Why Is Fish
Good for You?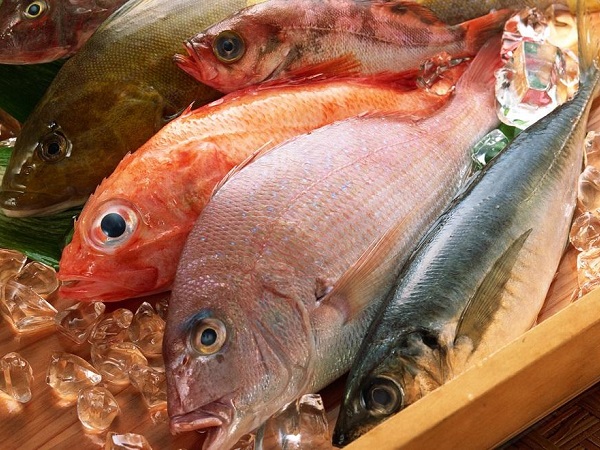 Many fish, especially oily, darker-fleshed fish like salmon and herring, are rich in heart-healthy, polyunsaturated, omega-3 fatty acids, but healthful fats are not the only reason to eat fish. Dietary guidelines in the United States encourage adults to eat eight ounces of a variety of fish and seafood each week – roughly two meals' worth – because of the "total package of nutrients in fish," which includes lean protein, vitamins A and D as well as B vitamins, and a host of minerals such as iron, iodine, selenium and zinc.
Women who are pregnant or breast-feeding are urged to eat as much as 12 ounces of seafood to improve infant outcomes, but should steer clear of fish that's high in methyl mercury. (The Food and Drug Administration recommends avoiding king mackerel, tilefish, shark and swordfish and limiting tuna; the nonprofit Environmental Working Group advises against a broader list of fish in its Consumer Guide to Seafood.)
"Fish is very low in saturated fat and low in cholesterol," said Jennifer McDaniel, a spokeswoman for the Academy of Nutrition and Dietetics, and people who follow a Mediterranean style diet that incorporates seafood appear to be at lower risk for obesity, "but a lot of people don't think about that and just focus on omega-3s."
Fish can be a much leaner and lower-calorie source of protein than meat, she noted. A cooked four-ounce portion of cod, for example, contains 26 grams of protein but only one gram of fat and 120 calories, compared with a grilled four-ounce portion of lean T-bone steak, which has 28 grams of protein, 18 grams of fat and 278 calories.
Nutrient content varies depending on the type of fish: Shellfish is especially high in selenium, and saltwater fish is high in iodine, Ms. McDaniel said. The iron in seafood, known as heme iron, is more easily absorbed by the body than the iron from plant sources, and the small bones in sardines are a good source of calcium.
Numerous studies have found that people who eat fish on a regular basis are less likely to die of a heart attack than those who don't eat it or eat it less than once a month, and a 2006 Harvard review concluded that eating one to two servings of fish rich in omega-3s every week cut the risk of dying of a heart attack by one-third.
Dietary guidelines urge adults to consume 250 milligrams per day of the omega-3 fatty acids EPA (eicosapentaenoic acid) and DHA (docosahexaenoic acid). You can get a week's supply in an eight-ounce portion of salmon or albacore tuna. Other good sources of omega-3s are anchovies, herring, sardines, shad, trout and mussels.
1365 Reviews
Best games
best server Conter strike source v34 https://kvk.com
tadalafil side efect bruising
buy cialis online Therefore, combining POCUS with CXR may help us confirm our findings with ultrasonography and avoid missing anything
https://helpwithdissertationwriting.com
resume writing services c13fjd
You explained that exceptionally well! essay writers writing papers professional essay writers professional essay writers
https://homeworkcourseworkhelps.com
help with writing essays at university x877pg
You actually expressed this superbly. essay service review legit essay writing services college paper writing services cheapest essay writing service uk
https://bestonlinepaperwritingservices.com
how to writing an essay r99cxf
Nicely put. Kudos! i don t want to do my homework coursework hire someone to do my homework homework help
https://hireawriterforanessay.com
what are good essay writing services s65nvl
Seriously loads of good info! pay for research paper where to buy essays online pay for essay papers pay to write essay
https://custompaperwritersservices.com
custom written dissertation l35pcu
Incredible tons of helpful tips. writing a dissertation dissertation writing dissertation doctoral dissertation automatic essay writer what should i write my college essay about essay writers online write my resume for me essays service https://englishessayhelp.com
https://phdthesisdissertation.com
great writing 3 from great paragraphs to great essays m508hc
Wow all kinds of terrific knowledge! best essay writers essay writer free trial write a essay write my resume for me
https://customthesiswritingservice.com
help writing dissertation proposal c84lcc
Incredible tons of awesome info. what is the best essay writing service ebook writing service paper writing service reddit professional paper writing services